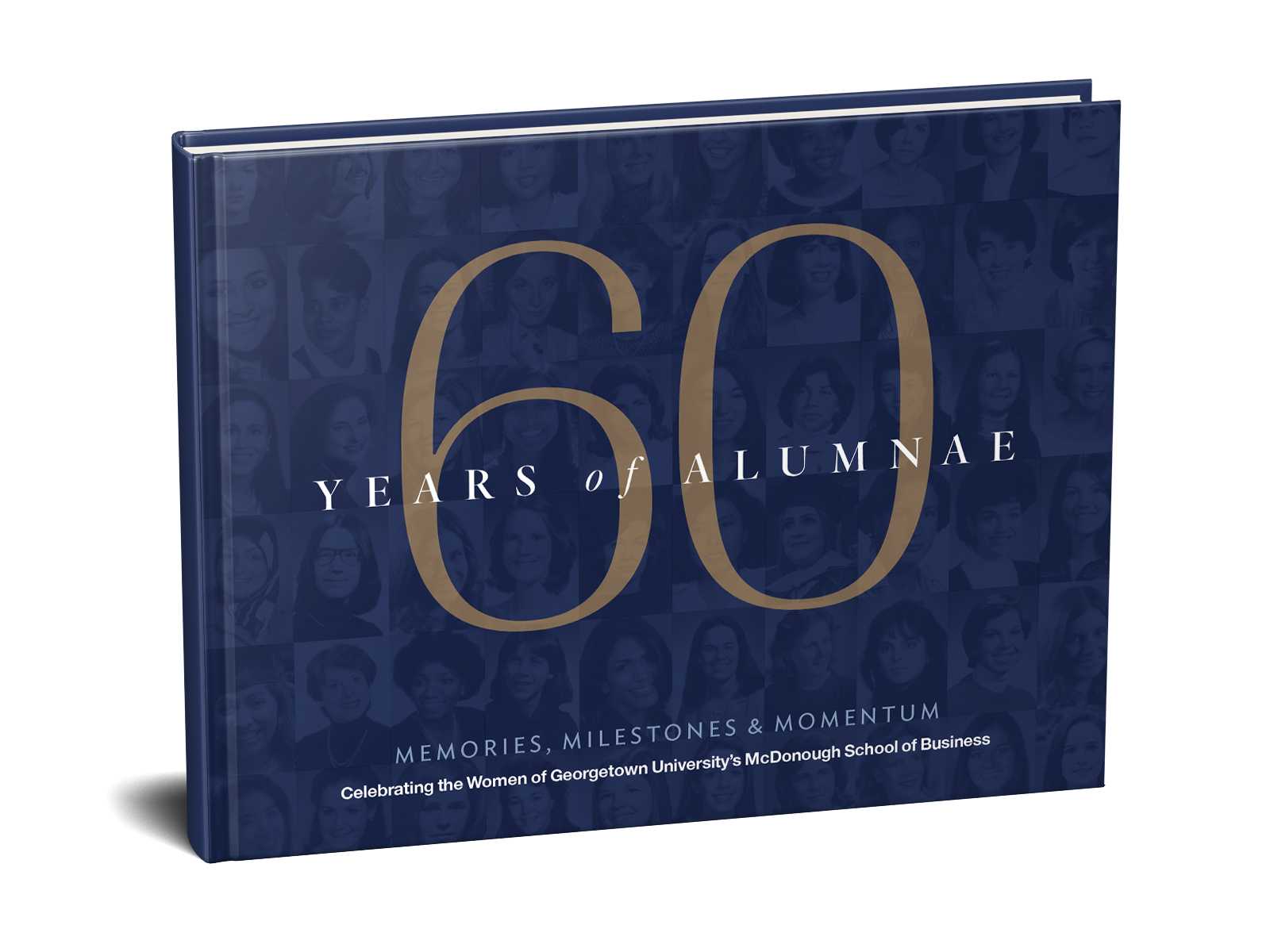 The Client
McDonough School of Business, Georgetown University
Publication
60 Years of Alumnae Anniversary Coffee Table Book
The Task
To commemorate the 60th anniversary of its first women graduates, the McDonough School of Business sought to celebrate the lives and careers of alumnae through a coffee table book. Editorial, including 60 interviews, and hundreds of images needed to be organized and contextualized to create a vivid and engaging story through editing and design. In addition to editing, proofreading, layout, design, web, and publishing services, the client required a method for online sales and distribution for single and bulk orders. 
The Solution 
McDonough assigned student researchers to conduct interviews and create drafts of  alumnae profiles and chapter openers. WCM editors ensured each story had a consistent style and voice to build a complete, cohesive book. Our team also proofread for grammar and to maintain adherence to  the client's style guide. 
Our designers created a layout tracing the chronology of alumnae throughout the 1960s-2010s, showcasing the school's growth over the years and tracking the evolution of women in business. A sophisticated design, using multiple entry points throughout, grabs the casual reader and pulls them into the story, contributing to a beautiful and memorable coffee table book and a remarkable digital companion website. The custom ecommerce site was crafted to market the book by highlighting alumnae profiles that hook the readers and automates book orders. 
WCM's production team was tasked with sourcing paper, publishing, and distributing the anniversary book. Our project managers registered the book's ISBN and copyright information, and set up distribution–including storage and inventory management, packing and shipping–to seamlessly provide individual and bulk orders.
Highlights
WCM can assist clients with any stage of the creative process, from idea conception to production and beyond. Highlighted in this solution: Project Management, Storytelling, Copy Editing, Proofreading, Photo Research, Photo Editing, Design, Creative Direction, Graphic Layout, Digital Design, Print Management, Sales and Distribution Management
Microsite: http://mcdonoughwomen60.com/