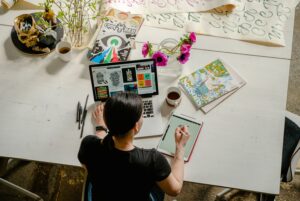 In the ever-changing world of content marketing, it can feel hard to keep up with evolving trends and tools. New platforms, tactics, and analytics pop up every day. What should you be measuring? Where is your audience moving next? We've compiled the best newsletters to help you answer these questions. Learn from industry leaders in daily run-downs, find new research, and more with these 12 skimmable and informative newsletters: 
To Stay Informed
1. Digiday
A daily dose of modern media, combining news and opinion pieces for those interested in the interplay between technology and the marketing industry. We love their insightful company features and practical research. 
2. 4A's 
The American Association of Advertising Agencies's daily newsletter compiles key stories so that you can stay up-to-date.
3. HubSpot
This one has a little bit of everything: videos, quick tips, and infographics for marketing, sales, and agencies. Who doesn't love a good listicle for being more efficient?
One of our favorite sources for local marketing news, Capitol Communicator allows for Washingtonians to receive tailored weekly updates and events information.
5. American Society of Association Executives
Associations Now is the news hub of the association and nonprofit executive community, and their newsletter delivers the highlights to inboxes every weekday morning.
For the Savvy Marketer
With the option for a daily roundup and/or a weekly rundown, dive into industry news on topics like mobile marketing and SEO at a frequency that's right for you. 
All aspects of digital marketing, including useful case studies and news from around the web, are available from Marketing Land's daily newsletter.
8. Morning Brew
If you want to skim your morning news on topics ranging from tech to culture and be entertained while doing it, check out the Morning Brew.
For the Techies
9. TechCrunch
Breaking technology news, analysis, and opinions on trending topics like AI can all be found in TechCrunch's several newsletter options. With daily and weekly editions, and special issues dedicated to finance and apps, technophile marketers have their pick of information streams here.
With platform-specific news and resources to help you take advantage of social media, We Are Social Media's newsletter is perfect for marketers looking to beef up their presence and engagement. 
For the PR Wiz
11. PR Daily
Advice on PR, marketing, and media topics like writing and crisis management could be waiting in your inbox… Signing up for PR Daily's newsletter will ensure you don't miss a beat.
This daily newsletter from PRNEWS is great for providing a community hub for tricks, tips, and tools for the modern PR professional.
Image courtesy of Antoni Shkraba via Pexels